Long term effects of COVID19
Recovery from COVID19 is different for everybody, some people feel better in days or short weeks and for others it may take a number of months to make a full recovery.
The length of recovery is not necessarily related to how severe the initial infection was.
Research is suggesting that a minority of patients have symptoms beyond four weeks, what we are calling 'ongoing symptomatic COVID19', and although most people will make a full recovery within 12 weeks, a smaller minority of people will have symptoms beyond 12 weeks, what we are calling 'post COVID19 syndrome'.
The term 'Long COVID' includes anyone with symptoms beyond 4 weeks.
It is currently estimated that around 14% of people who have tested positive for COVID19 will have symptoms beyond four weeks and 2% will have symptoms beyond 12 weeks.
The Office for National Statistics suggest that 1.6 million people in the UK (1% of the population) are currently experiencing symptoms of long COVID and this is likely to increase as we see the longer term effects of the second wave.
Symptoms of long COVID
There is no one type of long COVID and symptoms differ from person to person. Symptoms can affect almost any body system and may fluctuate and change over time. Long COVID can affect any age group including children and the elderly, although most commonly seems to affect those age 30-50.
Commonly reported symptoms include:
Fatigue
Shortness of breath
Muscle aches
Difficulty concentrating 'Brain fog'
Loss of smell
Headache
Problems with sleep (Insomnia)
Anxiety
A feeling of the heart racing (palpitations)
Dizziness
When to contact us
If you are concerned about symptoms 4 weeks or more after having COVID19 (either suspected or confirmed) please contact us. We may want to check that there is nothing else causing your symptoms and offer you support and guidance during your recovery.
Patient resources for managing ongoing symptoms
Your COVID Recovery is the main NHS advice website to support you in your COVID recovery.
It includes advice for managing various symptoms, returning to work, advice for parents and carers as well as lots of other useful information
Another helpful collection of resources has been developed from the Homerton University Hospital and can be downloaded HERE.
Fatigue is the most commonly reported ongoing symptoms after covid19 infection. This is not just physical fatigue but includes 'cognitive fatigue' also – that is, the mental effort required to do daily tasks. You may feel that you tire more easily, both physically and mentally, for a time after COVID19 infection.
Managing fatigue can be difficult, particularly if you are working or caring for children / elderly relatives, or you have other health issues to manage. The main advice in supporting recovery is to follow what we call the 3 P's –
PACE
Give yourself permission to slow down. Don't expect to be able to do everything at once, or at the same pace you used to. Do less than you think you can.
Break activities into smaller tasks and spread them throughout the day. You'll recover faster if you work on a task until you are tired, rather than completely exhausted.
Build rests into your tasks and plan rest breaks between activities. Resting is key to recharging your energy.
PLAN
Look at the activities you normally do on a daily and weekly basis; develop a plan to spread these evenly across the week.
Think about which activities you find most tiring and make sure you spread these out, with plenty of time to rest in between.
Don't try to complete several activities all in one go. This will drain your energy, and you will need more time to recover afterwards.
If you find that your energy is lower or concentrating is harder at certain times of day, plan to avoid tiring activities at these times.
Think about ways you can do activities differently to make it easier and less tiring. For example, you could sit down during tasks like washing and getting dressed. Rather than lifting and carrying items when cooking, try pushing and sliding them across the work surface instead.
Rearrange rooms like the kitchen so the items you use most are easy to reach.
Simple pieces of equipment can make lots of daily tasks easier to manage. Websites such as livingmadeeasy.org.uk will help you to find equipment that might be useful to you.
PRIORITISE
Some daily activities are necessary but others aren't. There might be some tasks that you can stop, do less often or ask someone to help you with, until you are feeling better.
Make sure you have a balance of the necessary tasks but also things you need to do, like washing and getting dressed and things you want to do for fun and enjoyment.
Start the day by asking:
What do I need to don and what do I want to do today?
What can I put off until another day?
What can I ask someone else to help me with?
There are a number of specific resources which you may find helpful in managing fatigue.
How manage post viral fatigue after covid19
Breathing issues are another commonly reported symptom. Providing your GP has ruled out any other causes of your symptoms we may want to discuss the possibility of referring you to physiotherapy as there is some evidence that this is beneficial for patients experiencing what we call 'dysfunctional breathing pattern'
The British Lung Foundation has some good information on breathing techniques:
https://www.blf.org.uk/support-for-you/long-covid/breathlessness-support
There is also a great resource from the ENO breathe programme www.eno.org
Loss of smell / taste
Half of patients report a change or loss to their sense of smell or taste after COVID19 infection. This can not only be unsettling but also can take the joy out of eating and drinking!
Generally we expect symptoms to resolve within 12 weeks.
When to contact us
Beyond this time if your symptoms followed COVID19 infection
If it is not certain that your symptom follows a COVID19 infection
If you have any additional nasal or neurological symptoms (such as nasal discharge, headache etc.)
There is evidence that 'olfactory training' can be useful if symptoms persist beyond 2 weeks- you may find the below resources helpful;
ENTUK also recommend Omega 3 supplements as an option for patients with loss of smell more than 2 weeks as an isolated symptom or following resolution of any other COVID symptom (These can be purchased over the counter).
Post COVID assessment clinic
In October 2020 NHS England and NHS Improvement announced a £10 million investment to help local services in every part of the country bring together the right professionals to help people requiring healthcare for Long COVID. These professionals provide physical, cognitive, psychological and psychiatric assessments, as well as testing functional abilities, of those experiencing suspected post-COVID syndrome, so that they can be referred to the right specialist help.
In March 2021 NHS England and NHS Improvement provided a further contribution of £24 million for post-COVID assessment clinics to support the anticipated demand for these services in 2021/22.
Your GP may want to refer you to our local (Calderdale) Post COVID19 assessment centre if your symptoms are particularly severe, affect a number of different body systems, or if symptoms are ongoing despite optimal management in primary care. The timing of referral will be based on individual need.
Long COVID in children
Thankfully we have seen very few cases of severe COVID19 in children. There have been cases of a condition known as Paediatric Inflammatory Multisystem Syndrome (PIMS) but thankfully these cases are also rare.
More information on PIMS can be found here
Remember - All the 'normal' infections that can make children and babies really unwell still remain and there is a major risk that parents may delay bringing their child to the attention of a healthcare professional even if they are unwell. If you are unsure whether your child needs to be seen, please contact us or 111 if out of hours. You may also find this website is useful click here.
Long COVID has been reported in children and research is being undertaken in to this (see longcovidkids.org). In addition, the government has committed additional money to support the development of regional post COVID19 assessments centres specifically for children and young people over the next 12 months.
If you are concerned that your child has ongoing symptoms beyond 4 weeks following suspected or proven covid19 infection, as with adult patients, please contact us.
Ongoing research in to long COVID
Research in to COVID19 and the long term effects of COVID19 is being undertaken and published all the time. Hopefully, as time goes on we will have a better idea of what causes long COVID19 and how best to look after patients who are experiencing ongoing symptoms.
You can find out more about current research here.
Or take a look at the COVID Symptom Study app to report your test results, vaccination status and symptoms and join thousands of others to help in our understanding of COVID19.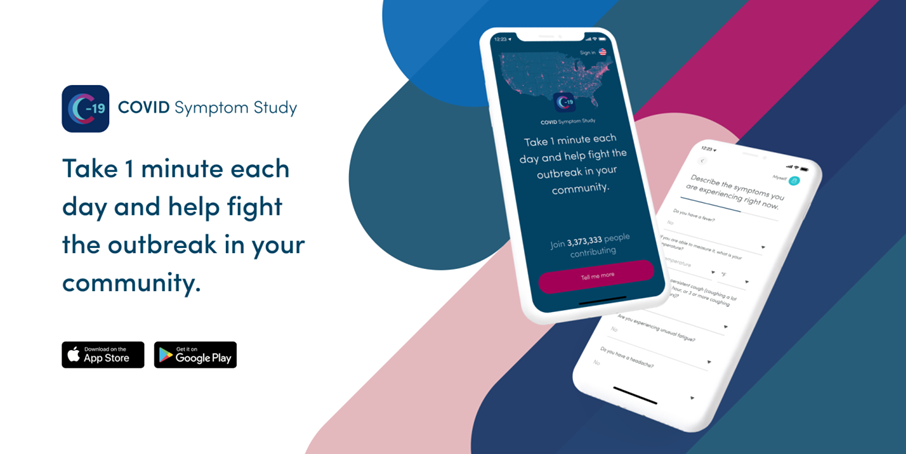 If you want to know more about the NHS' plan nationally for managing long COVID please see the resource available here.
Remember, we are here at Bankfield to support you in your COVID19 recovery.